Accommodation Charges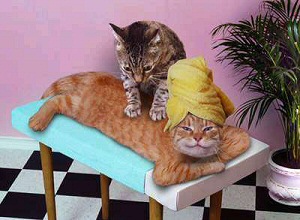 Charges from 1st February 2017 as follows
Charges are based on per day (or part thereof)
1 Cat per Unit $15 per day - Long term $14 per day
2 Cats per Unit $25 per day - Long term $23 per day
2 Cats per 2 Units $30 per day - Long term $28 per day (adjoining units or separate)
3 Cats per 2 Units $35 - Long term $33 per day (adjoining units or separate)
4 Cats per 2 Units $40 per day - Long term $38 per day (adjoining units or separate)
Deluxe unit 1 Cat $25 per day - Long term $23 per day
Deluxe Unit 2 Cats $35 per day - Long term $33 per day
Deluxe Unit 3 Cats $45 per Day - Long Term $43 per day
Deluxe Unit plus adjoining Standard unit 1 Cat $35 per day - Long term $33
Deluxe Unit plus adjoining Standard Unit 2 Cats $45 per day - Long term $43
Deluxe Unit plus adjoining Standard Unit 3 Cats $55 per day - Long term $53
Minimum charge $30
Collection and delivery service is available. Prices on request.
Other accommodation combinations available on request.
Flea Treatment: Should your cat require Flea Treatment - $15
Worm Treatment: Should your cat require worm treatment - $15
Prices New Zealand currency and inclusive of Goods & Service Tax.
Long term: first 21 days charged at standard per day rate remaining days charged at discounted rate. No long term discount given between the 15th Dec and 31st Jan.
All charges are based on a per day or part of, and to be paid at time of collection of your pet. Long term stay 50% on arrival remainder on departure.
There is NO surcharge over public holidays and no stay is too long or too short.
Payment methods: Cash, Cheque & on-line Banking.
Click on the following Pictures to view pages
Home

Isolation Unit

Sleeping Facilities

Keeping in touch - Photo's

Photo Gallery

Office Hours

Facilities

Testimonials

Terms & Conditions

Feeding

Map

All-Ages
Christchurch Cattery, Chris
 Catteries, Ch Ch Cats, Kittens, Canterbury, Canterbury Cattery, Canterbury Catteries, Ali Cats Cattery, Cattery, Catteries
Christchurch Cattery, Christchurch Catteries, Ch Ch Cats, Kittens, Canterbury, Canterbury Cattery, Canterbury Catteries, Ali Cats Cattery, Cattery, Catteries
Christchurch Cattery, Christchurch Catteries, Ch Ch Cats, Kittens, Canterbury, Canterbury Cattery, Canterbury Catteries, Ali Cats Cattery, Cattery, Catteries
Christchurch Cattery, Christchurch Catteries, Ch Ch Cats, Kittens, Canterbury, Canterbury Cattery, Canterbury Catteries, Ali Cats Cattery, Cattery, Catteries
Christchurch Cattery, Christchurch Catteries, Ch Ch Cats, Kittens, Canterbury, Canterbury Cattery, Canterbury Catteries, Ali Cats Cattery, Cattery, Catteries
Christchurch Cattery, Christchurch Catteries, Ch Ch Cats, Kittens, Canterbury, Canterbury Cattery, Canterbury Catteries, Ali Cats Cattery, Cattery, Catteries
Christchurch Cattery, Christchurch Catteries, Ch Ch Cats, Kittens, Canterbury, Canterbury Cattery, Canterbury Catteries, Ali Cats Cattery, Cattery, Catteries
Ch Ch Catteries, Ch Ch Cattery, Catteries ChCh, Catteries Ch Ch, Cat Boarding Christchurch, Cat Boarding Christchurch, Cat Boarding ChCh, Cat Boarding Ch Ch
Ch Ch Catteries, Ch Ch Cattery, Catteries ChCh, Catteries Ch Ch, Cat Boarding Christchurch, Cat Boarding Christchurch, Cat Boarding ChCh, Cat Boarding Ch Ch
Ch Ch Catteries, Ch Ch Cattery, Catteries ChCh, Catteries Ch Ch, Cat Boarding Christchurch, Cat Boarding Christchurch, Cat Boarding ChCh, Cat Boarding Ch Ch
Ch Ch Catteries, Ch Ch Cattery, Catteries ChCh, Catteries Ch Ch, Cat Boarding Christchurch, Cat Boarding Christchurch, Cat Boarding ChCh, Cat Boarding Ch Ch
Ch Ch Catteries, Ch Ch Cattery, Catteries ChCh, Catteries Ch Ch, Cat Boarding Christchurch, Cat Boarding Christchurch, Cat Boarding ChCh, Cat Boarding Ch Ch
Ch Ch Catteries, Ch Ch Cattery, Catteries ChCh, Catteries Ch Ch, Cat Boarding Christchurch, Cat Boarding Christchurch, Cat Boarding ChCh, Cat Boarding Ch Ch